Wholesale
Give Your Guests the Best Cold Pizza in Fort Collins
Why Cold Pizza?
There are plenty of reasons to give Cold Pizza a try!
Zero preparation time
No dirty dishes
No cleanup
Wholesome, healthy ingredients
Full-portion light lunch/dinner
At the end of the day, our pizzas are amazing and we know that your guests are going to love having the opportunity to grab a slice.
Are you interested in carrying Cold Pizza?
Our Wholesale Menu
Sweet Cheese: Classic cheese pizza, honey drizzle
Sweet Pear: Olive oil, pear, walnuts, goat cheese, honey drizzle, strawberries, fresh baby arugula
Stinky Pear: Olive oil, onions, garlic, pear, gorgonzola, walnuts, fresh baby arugula
Green Goat: Walnut Pesto, goat cheese, onions, sun-dried tomatoes, fresh baby arugula
Green Vegan: Cashew cream sauce, bella mushrooms, onions, brussel sprouts, fresh baby arugula, Dijon mustard & agave drizzle
ALLERGEN NOTICE
COLD PIZZA PRODUCTS ARE NOT ALLERGEN FREE. OUR PRODUCTS MAY CONTAIN SOME OR ALL OF THE FOLLOWING COMMON FOOD ALLERGENS: MILK, EGGS, PEANUTS, TREE NUTS, SOY, AND WHEAT.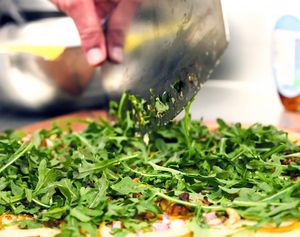 Green Vegan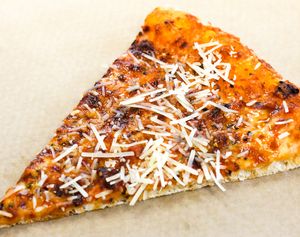 Sweet Cheese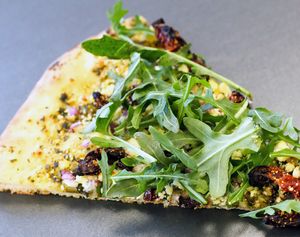 Green Goat
Sweet Pear
What Others Are Saying
"A colleague brought in some cold pizza and it's actually fantastic! I had the one with arugula and walnuts, and it was delicious - highly recommend Cold Pizza!" - Brian
"Finally tried some cold pizza this weekend and I was AMAZED at the flavors and options available. Such a fun spin on the way we already eat pizza. I highly recommend trying the pizza!" - Amanda
"I'm obsessed with goat cheese, so that option was a surprise and really made my night, but the regular cheese was also fantastic!! Can't wait to try again!" - Brittany
"Amazing and so delicious! One of the best things I have had lately. The Pesto Rules!! The Vegan is equally supreme!!" - Andrea
Be sure to check out more reviews and see what we've been up to lately over on our Facebook page!
Cold Pizza Is Currently Partnering With:
Museum of Discovery
Purple Cup Cafe
Howling Cow Cafe
And more coming soon!